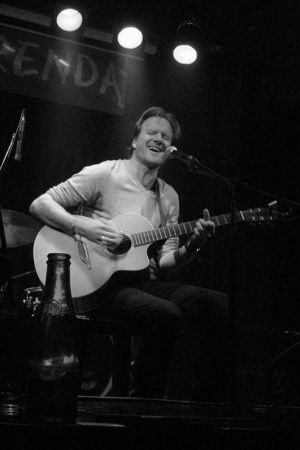 Rupert Wates at Club Harenda in Warsaw, Poland on October 07, 2014. (Photo: Filip Czwarno)
"Terrific hooks, deep lyrics, awesome voice and nearly astonishing fingerpicking chops - the real deal"(Paul Fried, August 2018 Monterey County Weekly CA www.montereycountyweekly.com) 
"Rupert Wates has performed once or twice a year for the last several years here at White Horse. I consider him one of our top solo performers. I'd put Rupert near the top of the list of singer-songwriters I've heard in my 50+ years in music. He's a truly fine lyricist, singer and player who has an enormously positive relationship with his audience. Widely and positively experienced at live performing, Rupert is a thorough-going professional and a joy to work with. I've never heard a Brit understand America as well as he does and it shows in his music and talk. As the former manager of the late Harry Chapin, I've heard my share of story songs. Rupert's are right up there with the best. Rupert well deserves my highest recommendation. Well promoted and presented, he'll almost certainly be a success wherever he plays" (Bob Hinkle, White Horse Black Mountain, NC)
"The most amazing artist I have had the honor of hosting in my home is Rupert Wates" (B. Raymond, www.clarionledger.com, Jackson MS)

"A performer of the highest calibre...His guitar work was phenomenal. I'm not sure I've ever seen such beautiful work – his fingers are full of magic" (D. Provencher, Alamogordo Area House Concerts NM)

"I was overwhelmed by how good he was, both lyrically and vocally. His guitar work was truly unbelievable." (K. Perrin, Circle Entertainment, Southport NC)

"Lyrically articulate and literate...he's been compared to Brecht, Gordon Lightfoot and Brian Protheroe...Despite the variety of musical colours, [the CD] doesn't stray too far from the path of its chosen genre...But then why would you want a glass of Riesling when you have a whole case of champagne?" (Mike Davies, Folk Radio UK on Rupert Wates' latest album The Rank Outsiders Ball. Read the full review at www.folkradio.co.uk.)

"...Exquisitely performed...One of those albums that feels slightly out of time and in doing so, becomes timeless...There's 14 tracks on this cut and frankly every one of them's a winner." (Neil King, Fatea Showcases UK, on Rupert Wates' latest album The Rank Outsiders Ball. Read the full review at www.fatea-records.co.uk.)

"...A smidgen of Django, and a little dose of the English music hall leavened with the panache of an expert Continental quartet. Wates is...a marvelous lyricist...he writes words that sing. At first one is tempted to call them Brechtian, but...they're actually better, more subtle and supple. And his brevity...stunning. So what you get here is an under-recognized master of the indie circuit having fun making what was never truly old new. You hope he, and the (Band of) Geeks, receive their due, because the time out of mind experience delivered here is truly affecting." (Steve Klingaman, April 14, 2014, on Rupert Wates' latest album The Rank Outsiders Ball. Read the full review at www.minor7th.com.)

"...Traveling a step beyond where folkies and mellow rockers fear to tread...'Outsiders Ball' is decidedly Rupert's most mellifluous, most stripped down...and most internally subversive release, with fangs not noticed until they're deep in your flesh, smiling back up at your shocked face...Start anywhere you like in his catalogue, it doesn't really matter, 'cause you'll soon be moving on to the rest rather quickly... Lend an ear to a sometime samba boogie, other times a breezy Balkan ditty, once or twice as though Gordon Lightfoot were contemplating turning Lothario before seeing Bryan Ferry across the room..."  (Mark S. Tucker, April 2014, on Rupert Wates' latest album The Rank Outsiders Ball. Read the full review at FAME.)

"A very fine disc from the richly talented Rupert Wates which we recommend warmly." (Valsam, April 2014, on Rupert Wates' latest album The Rank Outsiders Ball. Read the full review at rootstime.be.)

"..Perfectly sung and perfectly played...think of the witty musical interludes in topical television shows of the sixties, and you're half way there..." (Paul Kerr, 15 May 2014, on Rupert Wates' latest album The Rank Outsiders Ball. Read the full review at Americana-UK.com.)

★★★★★ "Wow! Rupert can wow an audience with his amazing voice and his astonishing guitar skills. Rupert Wates has the four magical keys to being a superb singer/songwriter; he has a pitch-perfect voice that's soothing as well as enticing, his lyrics are pure literature. Rupert's tunes will hook you after a few notes and his hands pull melodies out of a guitar that seem almost magical. But there's no slight of hand, it's all Rupert. His songs will keep you coming-back for more. Two thumbs WAY up!" (Customer review of (At The) Losers' Motel, iTunes)

★★★★ "A treasure – Provocative lyrics and unforgettable melodies." (Customer review of Coast To Coast, iTunes)

★★★★★ "Golden – This guy is unbelievable." (Customer review of Coast To Coast, iTunes)

★★★★★ "An excellent guitarist, a fantastic singer, a poetic lyricist... and a gifted English gentleman." (Customer review of Sweet Or Bitter Wine, iTunes)

★★★★★ "Oppositions Brought Together in Happiness and Light – While intellectual poeticism is inspiring all the songs, it hides itself pleasantly in a subtle and handsome way. This collection of songs seems like a complete prayer for a good future. The beauty of his images offers us hope and a bright time ahead for all. Wates gives us a new and better song to sing in our lives with his lyrics and tunes on this music collection." (Jessica Lewis Watson, Amazon.com customer review of Sweet or Bitter Wine, August 31, 2013 – read full review)

"I'm not sure which to praise more: Rupert Wates' marvellous lyrics, the spotless music, or that streetside cabaret folk voice of his, a crafted instrument which seduces as it gently reproves...This is one gifted S.O.B., throwing off song after affecting song with what appears to be complete ease... If you're not hip to this guy, you're missing a lot." (Mark S. Tucker on Rupert Wates' 2012 album (At The) Losers' Motel. Read the full review at FAME.)

"Everyone loved him! A real hit." (Becky Abel, Among Friends Music House Concerts, Florida)

"...a prime figure in American music who's just biding his time until he's discovered." (Folk And Acoustic Music Exchange)

"A songwriter of great emotional depth." (Sandi Durell, Times Square Chronicles)

"Another solid effort from the ever-reliable Wates. He's written some truly affecting song and gets great support from the band. 'Fools' Parade' is a strong song with a powerful lyric about the follies of humanity. 'Why I Had to Leave' is a reflective song of love lost that gets a lovely treatment. 'Be Near Me' is a warm, comforting song that shows Wates at his best. He's made another fine album." (A review of Rupert Wates' latest album (At The) Losers' Motel in The Ectophiles' Guide to Good Music)

"...More compelling, more sympathetic and more emotionally accessible than many other modern performers." (Ryan Moore, AMP The Magazine)

"Beautiful, exceptionally beautiful...From the first number you are unarguably on his side... When Love Came To Stay andBe Near Me hit you in the depths of your being... And as Bird Of Dawn emerges from the speakers, you can't resist accompanying the songsmith on his journey... I can without doubt affirm that this is one of the most beautiful discs I have heard this year... Is it because of the top musicians who accompany the disc, or is it that the arrangements are so modest that it charms one? Is it Wates' voice, fragile at times, his finely tuned and perfectly measured lyrics and his flawless guitar playing that make At The Losers' Motel a top disc? I think you will agree that this CD has everything a good disc should have." (Preach on Rupert Wates' 2012 album (At The) Losers' Motel. Read the full review in Dutch atwww.rootstime.be. Translation from Dutch by V. De Waal)

"Rupert is one of those rare artists who leaves an audience better than he found them." (Wayne Slater-Lunsford, Concerts In Your Home reviews, June 24, 2012)

"...One of the best songwriters I've ever heard, bar none." (Singer-songwriter Jon McAuliffe)

"Rupert Wates did a terrific concert here this afternoon. I highly recommend him... He's a wonderful singer, plays great guitar and writes some truly inspiring songs." (Mark Kaufman, Concerts In Your Home reviews, June 24, 2012)

"He is amazing! We had the pleasure of hosting him a few weeks ago and would gladly have him back any time." (Denise Clayton, Concerts In Your Home reviews, June 24, 2012)

"What a performance... His vocal charms combined with his deft guitar skills made this ArtMusic concert one of the most memorable in the series. It was a sheer delight to hear him play and share the stories associated with many of the tunes... It was as if Mr. Wates was standing at the well of humanity and drawing up the emotions and experiences of mankind to the surface where they could nourish those who partook of them from his vocal and musical instruments." (Full review at The Forwardian Arts Society July 9, 2011)

"Our audience was spellbound for the duration of his performance." (C. Murphy, Concerts In Your Home reviews, April 2012)

"Beautiful, arresting, heartwarming and soulful storytelling set to music." (San Francisco Fringe Reviews, 2011)

"What a privilege to explore the musical and poetic mind of this profound songwriter... He's a wonderful guitarist and singer, and presents an immensely appealing repertoire. But his songs are not merely beautiful -- they also satisfy on a deep, authentic level, as only the best material can. These songs will go straight to your heart." (M. McLeod, Concerts In Your Home reviews, January 2012)

"Emotionally rich original songs with meaningful historical elements...the CD (JOE'S CAFE) is absolutely indispensable. Moments of celebration, humor, moments of bittersweet melancholy, and everything in between, sometimes all at once." (San Francisco Fringe Reviews, 2011)

"[His] narrative storytelling is superb -- even by the highest folkmusic standards." 
(Jim Abbott, Orlando Sentinel)

"Completely accessible at several levels, Rupert is a thinking man's songwriter... You just want to listen to every word of every song."
(Don Ash, Black Eyed Susan's Acoustic Cafe, Angelica, NY)

"Man, this guy sings from the heart and then some!...Each song yanks the listener fully into the story and rhythms, not to mention an emotionality imbuing Wates's plaintively melodic voice. Every cut is a gem, completely absorbing, enthralling, and thus we have a new and unique songwriter-musician already in the front ranks...Trust me, Rupert Wates is an exceedingly rare talent." 
(Mark S. Tucker, FAME)

"Truly gripping lyrics with great themes and troubling, witty messages. An inspirational artist."
(Leith FM Radio 98.8 FM Scotland)

"A fantastic song writer and a mesmerizing guitar player." 
(Christine Sampson, Port Jefferson Patch)

"Potent melodies and strong hooks...delivered by a seasoned hand." 
(CD Universe)

"Robust folk music with lyrics that are sometimes dark, sometimes light but always clever and insightful." 
(The Ectophiles' Guide To Good Music)

"Uniformly excellent in both performance and creation." 
(James Haag, Port Jefferson Patch)

"A delight to listen to...These are songs crafted with care and imbued with sincerity and conviction." 
(Rob Quicke, Britsound Radio New Jersey)

"A songwriter of the very highest quality." 
(Stefan Schmoe, Online Musik Magazine, Germany)

"A singer who makes you think while he entertains... Rupert Wates manages that tricky tightrope with great skill." 
(Chris Kocher, PressConnects.com)

"[Wates] made us all sit up pop-eyed at what he could do with six strings."
(Keith Harrelson, Moonlight On The Mountain)
Reviews of Rupert Wates' music revue, traveling road show and album Joe's Café 
Presented as a night of live music at a cafe, [
Joe's Café
] is comfortable and welcoming. Wates performs his own songs, ballads reminiscent of Billy Joel's in their ability to tell stories. His music offers an oral history of troubled times across America through the years. The gentle music was a welcome respite after multiple back-to-back dramas. The song 
Days of Mercy
 was particularly haunting. (Melissa Hall, 
Indy Fringe Reviews
, August 20, 2013)
"I didn't expect Joe's Café to surface so many emotions and memories. Wates' voice is pretty amazing. He hits a huge spectrum of high and low notes, making it look effortless – not to mention this is all happening while he's playing his guitar. He seems to really enjoy himself and comes across as sincere and honest in all of his songs. I must confess I had not originally planned on visiting Joe's Café, but per the advice in the First Time Fringers Guide, I ditched my plan…and glad I took a chance." (Katie Pfledderer, 
IndyFringe Talk
, August 18, 2013)
"
Joe's Café
, a series of consciousness-raising and political songs by Rupert Wates, has a professional polish and charm that knocks you out. His songs are clever without assaulting the senses. Wates plays a mean guitar and is supported superbly by Bartosz Hadala on keyboards. This is a sophisticated little entertainment." (Hamilton Fringe Festival Reviews,
thespec.com
, 
Joe's Café
, July 2013)
"For an hour of beautiful song writing, vocals, guitar and piano, go to 'Joe's Café.' Anyone who loves folk will delight in the work of Rupert Wates, who writes from the heart about people's lives. His promise is a cup of kindness and he delivers. Superb piano by Bartosz Hadala." (Patricia Bradbury, 
Hamilton Fringe 2013 Reviews, View Magazine
, 
Joe's Café
, July 2013)
"Wates is a gifted singer-songwriter whose style of music and lyrics are Gordon Lightfoot-like. His lyrics are rich with social commentary, humour, sorrow, and sweetness, and his music can make you tap your toes or stomp your feet or sit silent and still.
Joe's Café
 is something special, indeed." (Rebecca Costie, 
Hamilton Fringe Festival Community Reviews
, 
Joe's Café
, July 22, 2013)
"The audience [was] enthralled by the performance. You will be delighted." (
Hamilton Fringe Festival Community Reviews
, 
Joe's Café
, July 21, 2013)
"
Lyrically, these songs combine the economy of a Woody Guthrie ballad with the intricacies of contemporary singer-songwriter Richard Thompson. Like Thompson, Wates handles an acoustic guitar with deft precision, building his songs on a foundation of fluid finger-picking. 
This year, Wates performs alone, but the music remains quietly powerful." (Jim Abbott, 
Orlando Fringe Review
 of 
Joe's Café
, Orlando Sentinel, May 21, 2013)